Almost three years ago I wrote a post about how I "cut the cord" and went to exclusively online TV content providers. I bought a Roku and Apple TV, both "generation 2", and reviewed my likes and dislikes about both. Much has happened in this space since my post was published:
4K TVs are available and have become quite affordable quickly
Showtime and HBO are now available as standalone services
You can get ESPN and a host of other channels via Sling TV
Apple seems to have renewed interest in TV
Amazon entered the arena with Fire TV
I've recently purchased an Apple TV 4 and a Roku 4 and have some thoughts on each after a week of using both extensively.
Apple TV 4
As you would expect from Apple, the interface is beautiful and easy to use
The touch remote is excellent, especially when rewinding/forwarding video
Apple doesn't allow its iPhone Remote app to control Apple TV 4 so the user must enter their credentials by swiping and tapping on letters. It's a fucking nightmare. Apple needs to remedy this quickly. Typing in a mixed case email and password is the most tedious thing I've experienced in my life.
Siri has been nice and fairly accurate. Somehow, however, it doesn't find "Penny Dreadful" on ShowTime when I request it, instead providing me an old B movie from Netflix.
Not supporting 4K, however few content providers there currently are, is a frustrating omission from Apple TV 4. Supposedly the hardware (A8 chip) is powerful enough to support 4K and a firmware update could unlock 4K support. Something tells me the big upgrade in v5 will be 4K support, which will be infuriating.
I was expecting more apps in the store at launch but the biggest apps (Netflix, Hulu, HBO, Showtime, etc.) are there so I guess I don't know what more I was expecting…
…I certainly wasn't expecting Amazon or Pandora, of course, so no surprise there.
Being able to control the volume via the remote is a new bonus
Its flagship game appears to be Beat Sports which I would consider just average. You can't help but compare it to wii Sports and I consider the Nintendo game miles better. It's a great showcase of what the remote can
…although Asphalt 8 is awesome. Best game I've found so far.
I made fun of Apple for featuring them as a great new feature but, to be fair, the new screensavers are pretty cool
Roku 4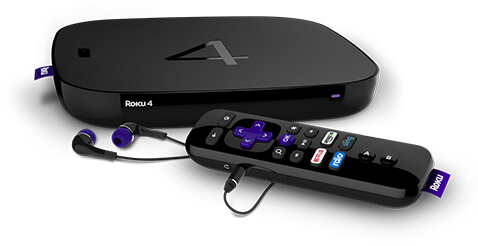 Being the first A-level device with 4K support speaks greatly for Roku
The setup process does its best to detect 4K and also suggests a 4K Showcase app which aggregates 4K videos from Netflix, YouTube, and other streaming services. Awesome!
Voice search is better than Siri… if you know the exact title you want. If you search something like "Vin Diesel movies", you should reevaluate your life you're out of luck. But for basic voice-to-title search, I find Roku better.
Only $20 cheaper than the 32GB Apple TV
The Roku remote lets you control volume but also provides a headphone jack for covert listening — a very nice touch
Roku added game abilities years ago but I don't see any worth having, to be honest. Disappointed in Roku's game offering despite their head start.
You can't help but think that Roku needs to hire a premier designer to make the interface more elegant and refined. The Roku still feels a bit like "let's just make it work" instead of "let's make it pretty too."
After using touch devices (of all brands) for several years, and now with the Apple TV having a touch remote, using the button remote seems a bit legacy. The remote does work well though — touch remote, you'd think, would be a v5 feature.
The Showtime app has a major flaw: when you select a series to watch, the episode listing shows you the latest episode first. The problem? If the series has ended, you may read the series ending summary before you can event start the show. How about a SPOILER ALERT?!
The iPhone app to control any of your Roku's is so clutch — mobile phone keyboard controlling the Roku input a joy to use
General *-TV Thoughts
Samsung's "Smart TV" OS is garbage. The OS freezes constantly and HBO Now and Showtime aren't available, months after available on other platforms. Never trust a Smart TV's OS — always get something like a Roku or Apple TV so that you have a device that the content providers prioritize first.
I can't cut the cord on DirecTV because I want to watch live sports (Barclay's Premier League and NFL). Once these devices get live sports…the game is over for cable companies.
Worth noting that Apple is still selling the $69 Apple TV 3….
HBO Now really needs a "Live TV" feature like Showtime does. I don't want to wait until after a live show has been recorded to see it, most times the next day. Boooo.
I've been really disappointed with the Fire TV, especially its interface. I don't see any value in it.
I'd love to see Roku as the native TV OS on more known brands like Samsung and Sony. We have a JVC Roku smart TV and it's great — everything we need on one remote!
I have a Chromecast and I've used it maybe 5 times, all for sending a soccer game stream from my Mac. The thing is…when I want to watch Netflix or HBO on my TV, I don't want my first thought to be "where's my laptop?"
DirecTV charges a monthly $10 fee for providing HD. In 2015. Unreal.
Feel sinful that these devices don't include an HDMI cord. WTF.
Verdict
I keep getting asked which of the two devices I would recommend people get. It's impossible to answer that question without knowing what you want to use the device for.
You'll prefer an Apple TV if you:
are generally hooked into the Apple ecosystem
want the promise of quality games
require an elegant interface
desire a touch remote
trust Apple's history of innovation
You'll prefer a Roku if you:
want 4k support
require access to Pandora and Amazon TV
want to support an open ecosystem
desire "adult" apps
You can't lose with the Apple TV 4 or the Roku 4. They are both massive improvements on previous generations, go for about the same price, and are miles ahead of the competition.
Source:https://davidwalsh.name/appletv-roku
The New Apple TV vs. Roku 4 Side-by-Side Comparison
Roku Wins Again with Roku 4
When you put them side-by-side, it's pretty clear that the Roku 4 has the edge in most categories. The only place the new Apple TV wins out seem to be RAM. And even though you can't tell from the chart, I think it's safe to say that the gaming experience on Apple TV will be way better than on Roku 4, unless Roku does something drastic to change the way they've done things thus far (hey, the game selections on Roku 3 is abysmal).
On the other hand, Roku will continue to offer the same user experience that has made it the number one streaming player on the market, only upgraded. You'll get 4K support, the ability to find your remote, and more.
Sure there will be Apple enthusiasts who swear by the new Apple TV. They'll love talking to Siri and be mesmerized by the user interface. But more than anything, it seems the new Apple TV is a prettier, more expensive, potentially lesser version of its competition.
So in my best announcer's voice, "The winner of Apple TV vs. Roku 4… and NEW, UNDISPUTED STREAMING BOX CHAMPION…THE ROKU 4 !!!"